Industry Trends Seen from Cisco Live! – Visibility Is at the Core of These Initiatives
Cisco Live! US took place the last week of June in Las Vegas. Judging by an impressive lineup of Gigamon partners, an audience exceeding 6,000 at the Gigamon booth, and the large number of new solutions that were showcased, this show was a clear success for Gigamon.
Gigamon shared the stage with our ecosystem partners, including: Cisco (of course), BluVector, Corning Optical Communications, Corvil, E8 Security, ExtraHop, Kentik, LiveAction, LogRhythm, Plixer, Savvius, SevOne, SolarWinds, Spirent Communications, Splunk, Viavi and VMware.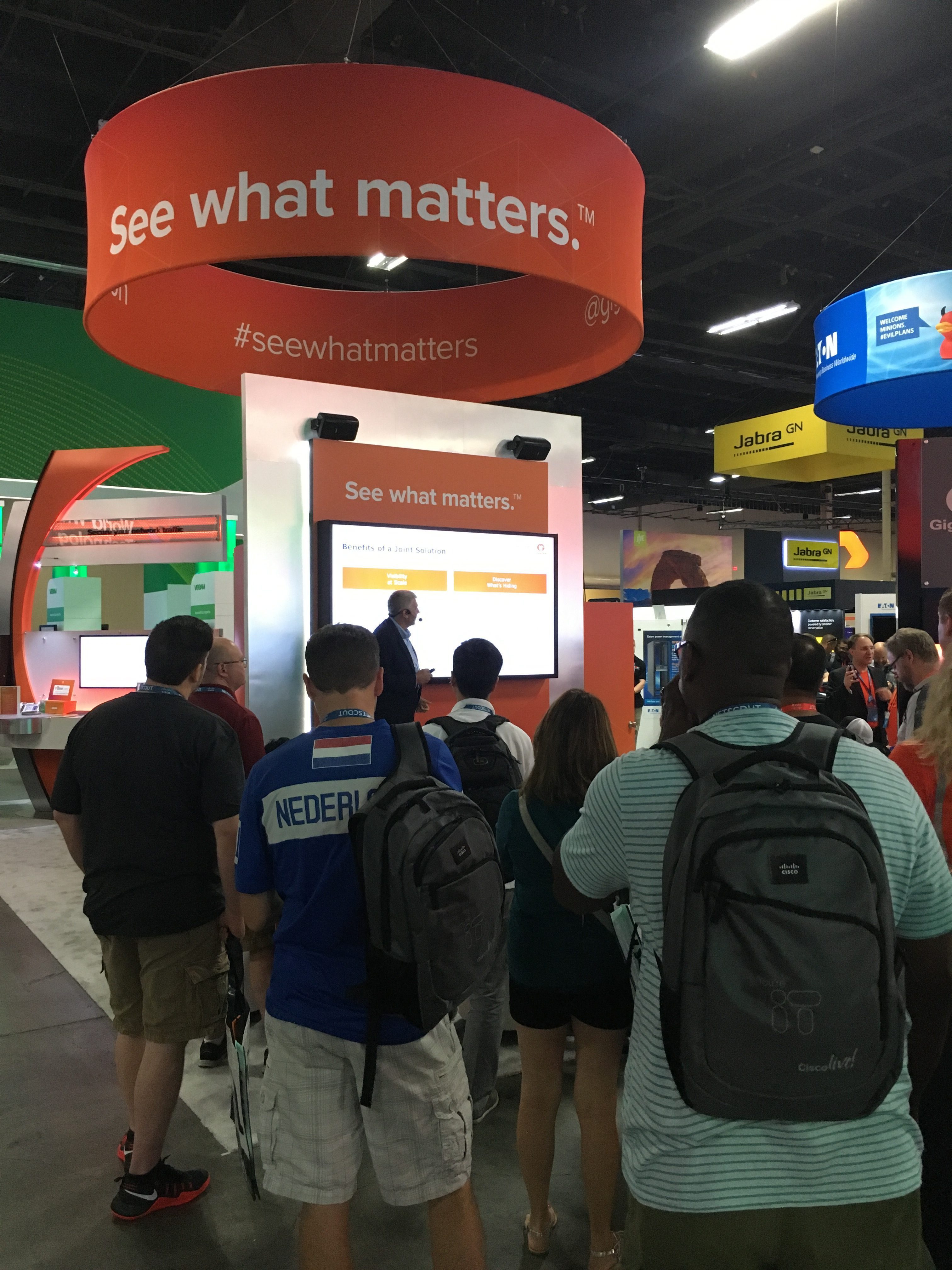 See what matters.™
The overall message at Cisco Live! was simple: "The Network. Intuitive." Cisco announced a new era of network technologies that are actively helping IT managers deploy, manage and monitor events on that network. Effortlessly. Automatically. Intuitively.
In that context, the Gigamon message – See what matters. ™ – resonated very well. Our Visibility Platform helps security and monitoring tools get the data they need to manage, monitor and secure the network. Supporting this message, we showcased our latest visibility solutions, including: the brand-new GigaVUE-HC3 appliance, GigaSMART SSL Decryption for both inline and out-of-band network traffic, Subscriber-Aware Visibility for Service Providers, and our Visibility for AWS solution.
Key Takeaways
More than 6,000 customers besieged our booth. In my own discussions with them, three themes came up repeatedly. These are most relevant to the state of network monitoring and security today:
The rich Gigamon ecosystem is at the core of its success.
Our compatibility and, beyond that, our active collaboration with technology partners is at the core of our customers' interest in Gigamon. They know that our solution will work with their legacy tools and they know that they can upgrade their security architecture with confidence.
Data center and cloud migrations are still creating deep challenges for IT organizations.
While data center and cloud technologies are more mature today than ever before, they still create a lot of complexity for our customers. The crux of this challenge is with migrations: When customers migrate from 10Gb to 40Gb or 100Gb, they need a system that will enable them to migrate their tools on their own terms. They need a system that will allow them to first migrate the infrastructure and test it, while extending the lifecycle of their existing tools until they are confident in the success of the migration. Gigamon helps organizations effectively adopt these new technologies and standards by providing consistent network visibility.
Security tools are not able to scale and IT organizations are hurting.
Still today, and likely more than ever, network security is top-of-mind. Every week, new threats emerge. One week, it was WannaCry; during Cisco Live!, it was NotPetya. Now that most security managers are keenly aware of the risk and have duly invested in the proper tools, they want to minimize blind spots. They want to make sure that their security architecture remains agile, easy to manage, effective and resilient. SecOps teams can count on the market leader in network visibility to help them with this endeavor. 
Throughout the show, it was highly gratifying to meet with so many customers who understood the value of a Gigamon Visibility Platform and were eager to reap all the benefits from it. By any metrics, Cisco Live! was a tremendous success. Thank you to all those who visited us there.