Updated October 28, 2021.
A technology company thrives on innovation, and when that innovation is rapidly adopted by customers, it leads to a market leadership position for that company. IHS Markit has just named Gigamon the market leader in visibility! We are grateful for our customers' loyalty and trust, which has helped us expand our market leadership even further in 2016.
According to IHS Markit, we are the only visibility vendor whose market share increased – and significantly. Our share accounted for 36% of total market revenue in CY16, more than twice that of our closest competitor.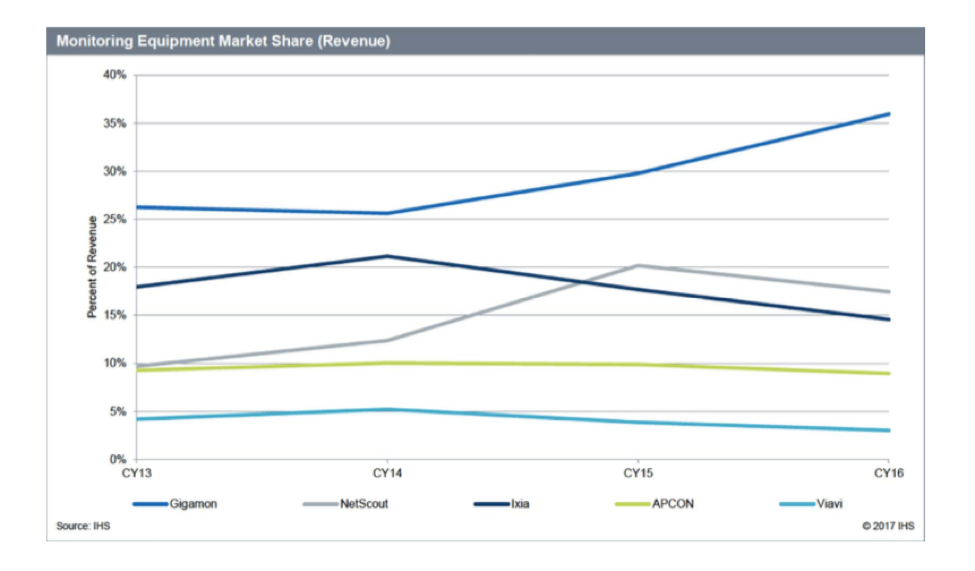 See what matters.™
Who, outside of Gigamon, would have predicted four years ago when we went public as a $128 million-dollar company that we'd be where we are today – the market leader, with 40% year-over-year revenue growth in 2015 and in 2016?
We thrive on bringing value to our customers. We provide them with the pervasive network visibility they need to strengthen security and enhance network performance. Gigamon — along with our extensive partner ecosystem — is transforming cyber defense by optimizing existing security solutions to better prevent, detect, predict and contain threats. We are enabling complete, consistent visibility and management of network data in public and hybrid clouds. We are helping service providers build new business models through subscriber-aware intelligence. The potential is endless when you can See what matters.™
To Our Customers and Partners: Thank You!
All the kudos in the world from third-party analyst firms don't erase the fact that we wouldn't be where we are if we did not deliver a unique value to our partners and to our customers. We owe this achievement to them, without who none of this would have been possible.
Their passion and unwavering support is what has made Gigamon the number one visibility solution. We would not have reached this success without their constructive feedback, which has enabled our continued innovation.
More than rankings or any awards we've won, our customers' passion for our products is what matters most to us. Thank you for your continuous support.
For more information, download the Executive Overview or full IHS Markit Monitoring Equipment Market Share report.