Updated October 28, 2021.
You're about to push the button on a big investment. You've done all the recommended planning and researching to ensure you're making the right decision. You are even prepared to sign on the dotted line — and suddenly everything changes.
Case in point: My car is getting old and its engine performance is deteriorating. In the past six months, I've spent hours reading reviews about new cars, futzing over the features and weighing what I want against a price I can afford, but given these uncertain times, I've decided to keep my old car a bit longer. After all, it's been good to me so far, even as it's creeping into high six-figure mileage and repairs have gotten costlier. Not taking on new car payments is outweighing the inherent risks of a car that is reaching the end of its life.
A similar situation is playing out in the IT world right now. Organizations that started 2020 off ready to invest in digital transformation initiatives are suddenly facing tighter budgets and a new set of priorities. Many have been forced to pivot and prioritize a handful of new network monitoring and security tools versus buying everything that was planned. Others have parked new investments altogether and are focused on simply "keeping the lights on" for existing network and tools.
Just like I chose to delay a new purchase, many organizations have moved IT projects to the back burner until they feel more confident about the economy.
IT Challenges Made Worse Through Budget Freezes
Back in March, so many organizations were thrust into work-from-home scenarios they simply weren't prepared for. Since then, vulnerabilities in network performance and security have been exposed and heightened, but the money just isn't there to make improvements.
Regularly, we're hearing people say things like:
"We need to launch this strategic project, but we don't have the budget"
"Work-from-home is stressing our legacy network and tools, but we don't have the budget to fix it"
"Even with a transition to cloud, we are spending all our time making sure our network stays up"
In other words, they're forgoing critically needed upgrades when they need them most to eliminate or cut costs. I get it. That's why I am driving my old car, instead of the one I've been pining over for months. I just can't justify spending the money right now. However, if someone said to me, "Bassam, we can make your car last three times longer, improve engine performance and save you thousands of dollars in repair bills," I'd find a way to come up with the money — especially since it's far less than purchasing a new one.
That's exactly what Gigamon can do. An investment in Gigamon solutions — which breaks even typically within three to six months — will save you substantially on tool costs both in the short term and over time. Your existing tools will perform better, and you can delay upgrades and new purchases without fear.
See for Yourself: Gigamon Frees Up Existing Budgets
We created a Value Calculator to show how much hard-dollar savings you can realize with Gigamon. While there are dozens of measurable IT benefits that Gigamon brings, for the calculator model, we focus specifically on cost savings from the traffic reduction benefits of these four Gigamon capabilities: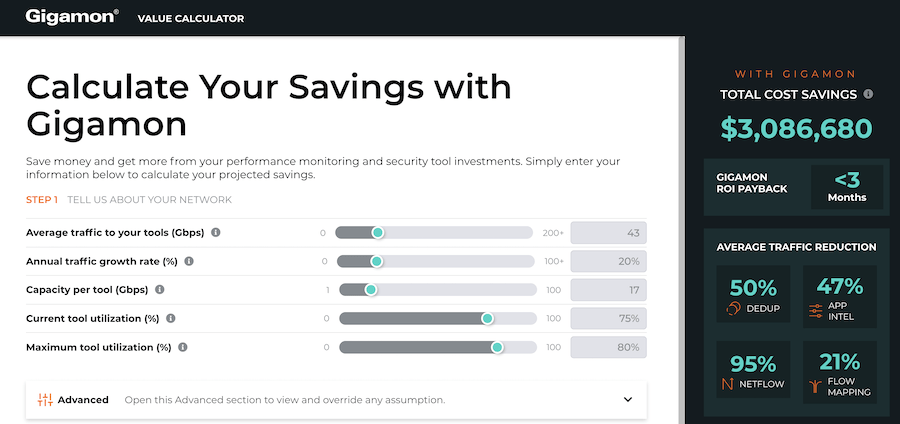 What we've found is that even after narrowing down our impact to just these four, our customers save a lot of money. How? By having Gigamon reduce and optimize the traffic going to their network-based tools, we extend the capacity of existing tools so they perform better.
How the Gigamon Value Calculator Works
Behind the scenes, the Calculator is powered by a financial model that projects future costs with and without Gigamon to accurately calculate how much you can save. We used a combination of university research and our own customer deployment experience to determine the assumptions used and default values.
Our customers typically see an average of 54 percent reduction in duplicate traffic, increasing tool capacity and improving performance.
However, you can — and we strongly recommend that you do — customize the defaults to your own environment.
To get an estimate of your cost savings and a Gigamon ROI time frame, you'll just need to answer five basic questions:
How much traffic is being sent to your tools? (Note: This is the bare minimum input needed to estimate how much you can save.)
What is your annual traffic growth rate?
How much capacity do your current tools provide?
What is your current tool utilization?
What is your maximum tool utilization? At what utilization would you want to upgrade your tools?
Once you input your values and make any customizations to the default values, you can instantly see your results on the right-hand side of the Calculator. You can also save your results in a custom report by clicking a button and having it emailed to you. It's that easy.
The Best Five Minutes You'll Ever Spend
Calculate how much you can save with Gigamon. Or if you have questions or want more extensive financial modeling, contact us directly.
Featured Webinars
Hear from our experts on the latest trends and best practices to optimize your network visibility and analysis.

CONTINUE THE DISCUSSION
People are talking about this in the Gigamon Community's Networking group.
Share your thoughts today