Home » Archives for Vladimir Yordanov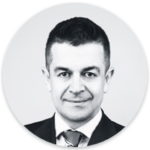 Vladimir Yordanov
Senior Director of Solution Engineering, Asia Pacific and Japan
Vladimir is Sr. Director of Solution Engineering for Gigamon Asia Pacific and Japan and leads the region's solution engineering and consulting team. Vladimir brings close to 20 years of experiences in the high-tech industry with a background in cybersecurity, application delivery, networking, threat intelligence, and telecommunications.
Throughout his career, he has pioneered and covered in-depth a number of technologies, including application delivery and security, telecommunications networks, cloud security, and cyber risk assessment and management.
Vladimir is accomplished author, public speaker and presenter, participating in major industry events such as RSA, Gartner Security Summit, Singapore Cyberweek, International Security Forum, and many others. He is fluent in Mandarin and holds an MBA from Purdue University.
READ MORE