What's New in GigaVUE 6.2: GigaSMART enhancements, Next-Generation G-vTAP, Decryption for IPv6, and More
Big news: Gigamon GigaVUE® 6.2, the latest version of the software that powers GigaVUE appliances, is now available. Version 6.2 includes a number of upgrades that will immediately improve visibility for current Gigamon customers. The new features can improve performance, accommodate IPv6 networks, and give users more flexibility and granular control when it comes to network monitoring. Let's dive into the details.
Next-Generation G-vTAP
GigaVUE 6.2 includes the next generation of Gigamon G-vTAP, takes advantage of advanced Linux functionality to mirror production traffic and send to GigaVUE V Series node. This enhances performance and reduces resource impact in VM-based environments and makes it easier to tap VMs. G-vTAP now uses eBPF, the modern functionality built into Linux, to acquire traffic, similar to the methodology used by the Universal Container Tap (UCT).
The latest version of G-vTAP is a lightweight solution that adds the option of prefiltering to reduce traffic flow to V-Series appliances, a longstanding request from our customers. That boosts performance overall.
GigaVUE 6.2 will automatically install the correct G-vTAP version (either the current or next generation), making deployment simple.
Support for IPv6 with Inline Decryption
This release makes it simpler to adopt inline decryption with support of IPv6. This extends the GigaVUE appliance's previously existing ability to perform high-speed decryption for IPv6 traffic. Customers now no longer need think about whether their network is IPv4-only, IPv6-only, or dual-stack; it all simply works.
SSL connections are decrypted in inbound or outbound deployments and are passed on to inline tools and eventually to the server. Customers can configure this functionality through the GigaVUE-FM fabric manager or on the command-line interface.
To make things even simpler, no new licensing is required for existing customers, who will be able to handle IPv6 traffic decryption in addition to IPv4. GigaVUE HC1 Gen3, GigaVUE HC3 Gen3, and GigaVUE HC1-Plus appliances are all supported.
AMI Tool Templates
Gigamon Application Metadata Intelligence (AMI) helps you monitor and manage complex digital applications for your digital transformation initiatives. GigaVUE 6.2 includes Gigamon-validated AMI Tool Templates, which deliver an easier, use case-centric presentation of AMI. Tool Templates are preloaded with predefined AMI attributes in GigaVUE-FM, which customers can customize further and send the data to their observability or SIEM tool of choice.
These Tool Templates include:
Security Posture: Detect and remediate flaws in application security holes in the network
Anomalous Traffic: Detect and remediate suspicious HTTP, HTTPs, and DNS traffic
Troubleshooting: Detect and remediate network delays, connectivity problems, and protocol errors on the network
Suspicious Activities: Detect and remediate issues related to unmanaged devices, suspicious connections, and traffic outside network norms
Rogue Activities: Detect and remediate unsanctioned applications that can pose challenges to your network performance and security
M-21-31 Logging: Monitor HTTPS, HTTP, DNS, shadow IT, IoMT protocol activity, and OT while meeting U.S. Office of Management and Budget M-21-31 logging requirements
User-defined application signatures
Finally, user-defined application signatures allow users to define their own custom-built application signatures for traffic which are not classified automatically. That allows you to filter for in-house app traffic to specific tools. You can also export user-defined application names and their associated flow tuples (i.e., the source and destination IP addresses, port numbers, and protocols) to better analyze traffic trends.
Figure 1. Defining your own application intelligence session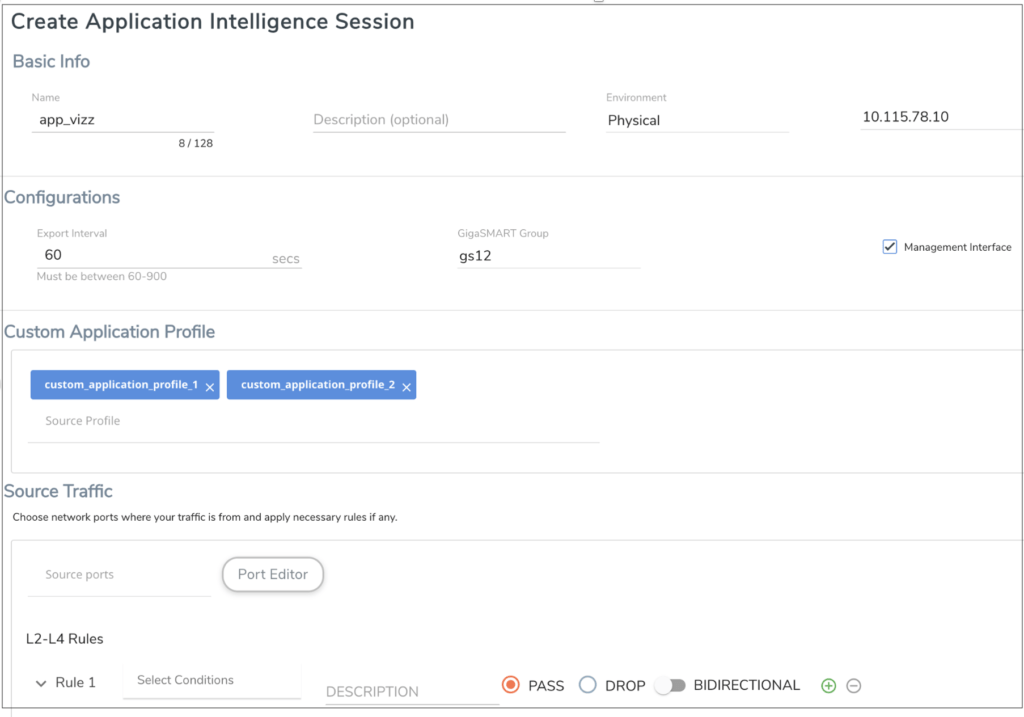 With this feature, you can identify and name previously unclassified TCP, UDP, HTTP, and HTTPS applications with the help of application signatures that you define. These user-defined applications can be used to filter traffic using Gigamon Application Filtering Intelligence, or to export metadata using AMI.
GigaVUE HC Series (HC1, HC1-Plus, and HC3 with Gen3 GS module) and GigaVUE V Series appliances all support this feature.
Gigamon Keeps Pace With Your Needs
For more information on whether your current Gigamon infrastructure can support the new features in GigaVUE 6.2, contact your local Gigamon representative or our sales team. And don't forget to visit the Gigamon VÜE community to access the software, technical documentation, and release notes.
Featured Webinars
Hear from our experts on the latest trends and best practices to optimize your network visibility and analysis.

CONTINUE THE DISCUSSION
People are talking about this in the Gigamon Community's Networking group.
Share your thoughts today