Cloud
/
November 22, 2022
Definitive Guide to Hybrid Clouds, Chapter 6: Examining Network Visibility, Analytics, and Security Use Cases
Editor's note: This post explores Chapter 6 of the "Definitive Guide™ to Network Visibility and Analytics in the Hybrid Cloud." Read Chapter 1, Chapter 2, Chapter 3, and Chapter 5, and check back for a future post covering Chapter 7.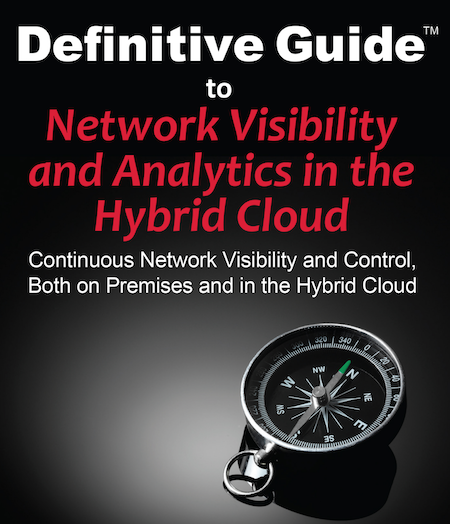 Your hybrid cloud environment is growing so fast that your network and security teams could be struggling to monitor and defend this ever-increasing attack surface.
Teams simply don't have the capability to see all traffic — and catch the threats before damage is done. Investments in advanced monitoring and detection tools can help, but ONLY if they provide all the security without disrupting the business.
Benefits of a Cloud Visibility and Analytics Fabric
The right network visibility tool shouldn't cause latency or complicate businesses workflows. In fact, a cloud visibility and analytic­s fabric (VAF) can actually reduce complexity, decrease time-consuming tasks, like troubleshooting, and eliminate tool sprawl, all while helping you protect your network and reduce operational overhead.
A VAF is the visibility layer between your network infrastructure and network monitoring and security tools. It helps ensure each tool receives all the relevant traffic it was designed for (but nothing else), acting as a comprehensive next-generation network packet brokering platform.
A VAF will:
Flag suspected data exfiltration based on type and quantity of data flows, DNS records, and lookups associated with suspicious activity
Check SSL/TLS certificate use and expose nefarious communications hidden within encrypted flows
Identify suspicious and unauthorized external remote connections
Find and eliminate rogue apps and shadow IT operations
Obfuscate internal compute source IDs, account numbers, birth dates, credit card numbers, and personally identifiable information (PII)
Detect rogue DNS and DHCP servers
Collect key metrics that help your security team improve network events and activities
Ultimately, a VAF can help security teams uncover network blind spots and malicious traffic patterns, and eliminate the need for extended, futile investigations by pinpointing unusual traffic in busy networks and highlighting events and flows of interest quickly.
Get All the Details on Network Visibility, Analytics, and Security Use Cases
Don't stop here. If you are ready to improve your network and cloud operations efficiency, while protecting sensitive data from relentless attackers, read the Definitive Guide™ to Network Visibility and Analytics in the Hybrid Cloud.
Featured Webinars
Hear from our experts on the latest trends and best practices to optimize your network visibility and analysis.

CONTINUE THE DISCUSSION
People are talking about this in the Gigamon Community's Hybrid/Public Cloud group.
Share your thoughts today