Cloud
/
November 29, 2022
Definitive Guide to Hybrid Clouds, Chapter 7: Selecting the Right Cloud VAF and NDR Vendor
Editor's note: This final post a series explores Chapter 7 of the "Definitive Guide™ to Network Visibility and Analytics in the Hybrid Cloud." Read Chapter 1, Chapter 2, Chapter 3, Chapter 5, and Chapter 6.
If you haven't started investigating cloud visibility and analytics fabric (VAF) vendors, now is the time. A VAF, which centralizes and coordinates monitoring efforts through a single platform, can decrease complexity and eliminate tool sprawl, providing these benefits: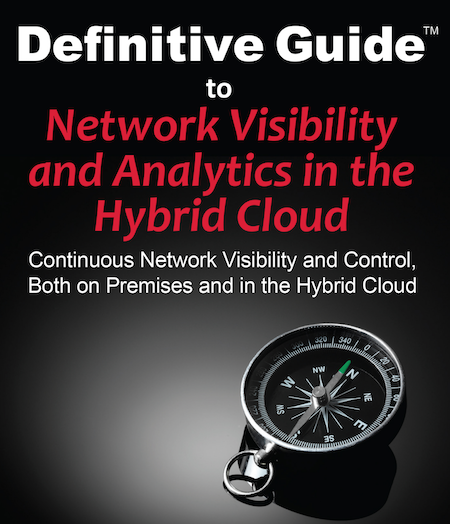 Unified monitoring and control
Integration with cloud provider APIs, enabling smooth automation
Orchestration and DevOps integration, which empowers organizations to continuously monitor and keep up with changes in the operating environment
Decreased complexity and cost, even as IT environments grow more diverse and complex
Reduced application downtime with in-depth insight into traffic patterns and behaviors that can help improve planning and troubleshooting
That said, not all VAF vendors are equal, and there is a wide range of solutions to choose from. Dig in to Chapter 7 for a comprehensive analysis to help you make the best possible investment for your organization.
In the meantime, here is a quick checklist to jumpstart your research.
What to Look for When Selecting a VAF and Network Detection and Response (NDR) Solution
As you investigate the many solutions out there, here are some must-have capabilities to look for:
Ability to acquire network traffic from a wide variety of sources and support a range of acquisition types, both physical and virtual
Ability to accommodate physical networks that range in speed and traffic capacity
Compatibility and integration with numerous on-prem and cloud-based environments
Flexible cloud traffic acquisition strategy that includes workload agents, traffic mirroring, and centralized management and control of all tools and policies
Partnerships and compatibility with other leading solutions and services, including network firewalls, software-defined networking infrastructure, network intrusion detection, SIEM solutions, SOAR systems, observability solutions, and network performance management tools
Compatible with all major IaaS/PaaS cloud platforms (i.e., AWS, Google Cloud Platform, and Microsoft Azure)
Coverage to private cloud environments built on all major platforms (i.e., Kubernetes, AWS Outpost, Azure Stack, Nutanix, OpenStack, and VMware)
Core Features Every Mature VAF and NDR Solution Should Have
Enterprises with rapidly changing infrastructure, applications, and operational practices should look for mature network monitoring platforms that offer these core features:
Decryption of traffic, including SSL/TLS, and specifically TLS 1.3, which is rapidly gaining adoption
De-duplication of packets before sending the remainder of data to analysis tools
Flow slicing to improve monitoring efficiency
Traffic filtering and forwarding based on configured policies to send relevant sessions to relevant tools
Layer 7 intelligence built in to provide granular operational and security filtering and control
Masking data within packets to protect data and meet compliance requirements
Flow and meta-data (NetFlow/IPFIX/CEF) generation for any traffic flow
Subscriber-aware visibility that offers 5G CUPS correlation, GTP correlation, SIP/RTP correlation and FlowVUE™ Flow Sampling capabilities
Find the Right VAF Solution for Your Organization
Get much more information on how to evaluate VAF solutions by reading Chapter 7 of the Definitive Guide™ to Network Visibility and Analytics in the Hybrid Cloud.
Featured Webinars
Hear from our experts on the latest trends and best practices to optimize your network visibility and analysis.

CONTINUE THE DISCUSSION
People are talking about this in the Gigamon Community's Hybrid/Public Cloud group.
Share your thoughts today