Network Virtualization Takes Center Stage
Gigamon has offered traffic visibility solutions for VMware private cloud environments managed by NSX for vSphere and vCenter since 2014. NSX is a network virtualization platform that enables an agile software-defined infrastructure to build cloud-native application environments. With it organizations can programmatically create, delete and restore software-based virtual networks.
With network virtualization, the functional equivalent of a network hypervisor reproduces the complete set of Layer 2 through Layer 7 networking services (for example, switching, routing, access control, firewalling, quality of service (QoS)) in software. As a result, these services can be automatically assembled in any arbitrary combination, to quickly produce unique, isolated virtual networks.
NSX works by implementing three separate but integrated planes: management, control and data. The three planes are implemented as a set of processes, modules and agents residing on three types of nodes: manager, controller and transport nodes. GigaVUE-FM fabric manager has proven and robust management and control plane interoperability via APIs.
SDN Undergoes a Revolution with NSX-T Data Center
The tried and true NSX for vSphere is tethered to vSphere and VMware-based infrastructures. It provides networking services to applications running on vSphere. With the introduction of the NSX-T version, VMware has taken a quantum leap forward and is focused on emerging application workloads and architectures that have varied endpoints and technology stacks.
NSX-T is a unified networking platform that's implemented in software to connect any type of application; they could be a running in virtual machines, containers or on bare metal; they could be deployed in a private or public cloud. Now both north-south and east-west traffic between containers and between pods, as well as VMs, can be managed by a single console. The fundamental value of NSX-T is that it is essentially a single network, single abstraction and single way of managing policies.
Relative to its predecessor, the new suite is hypervisor agnostic, decoupled from vCenter, can run in multiple clouds (including AWS, Microsoft Azure, and OpenShift-based Platform-as-a-Service), supports container-as-a-service (CaaS), and is interoperable with Kubernetes container orchestration methods.
For network management, NSX-T leverages GENEVE as the network virtualization overlay protocol and newer N-VDS (virtual distributed switch) with multi-tier routing. NSX-T has IP Address Management (IPAM) capabilities for on-demand routed networks, which is especially useful for integration with IaaS environments. Recently support has been added for DNS. All this enables NSX-T to manage more advanced micro-segmentation at both coarse and granular levels.
Gigamon is in lock step with VMware in addressing these new environments. So, naturally, we want to be part of the action.
Automating Traffic Visibility Is Paramount
From seemingly time immemorial Gigamon has provided solutions that acquire, aggregate, process and optimally distribute application traffic, including east-west traffic, to centralized tiers of security and monitoring tools. This amps up your security by seeing all the relevant traffic, no more, no less; and by offloading extraneous processing that bogs tools down and ultimately improves their effectiveness. Application and performance monitoring tools similarly benefit by improving their accuracy and lowering total cost of ownership.
Just as with VMware's new paradigm Gigamon provides these capabilities for multiple environments including traditional on premise, public cloud with AWS and Azure, private clouds with VMware and OpenStack and Docker containers with Kubernetes. Compute nodes, regardless of location in a data center, remote office, branch office or in the cloud, can have their traffic acquired and forwarded to the Gigamon Deep Observability Pipeline and the same policies can be applied and managed through a central manager. With NSX-T taking on whole new domains, organizations can now piggyback Gigamon solutions on top of this new VMware platform.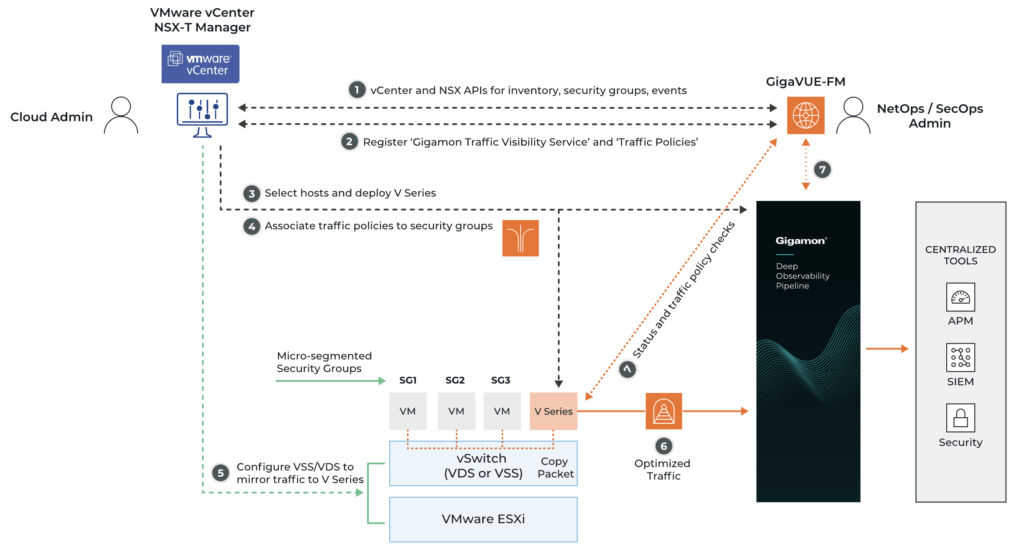 The upcoming NSX-T certified integration of our Gigamon Deep Observability Pipeline and unique Gigamon Application Intelligence will take next-generation network packet brokers (NGNPBs) to a whole new level. In deployments overseen by NSX-T with vCenter, and ultimately other server management tools, organizations can enable networking services, including our pipeline, to be dynamically inserted and managed. Organizations will be able to:
Automate application-layer traffic visibility in multi-cloud environments with NSX-T
Expand insights and control over cloud workloads with best-of-breed management tools
Enable monitoring in micro-segmented environments with superior tenant security
Dynamically update policies/rules and monitor new and relocated VMs with vMotion
Instantiate GigaVUE-VM using NSX Dynamic Service Insertion without manual intervention
Sounds Complicated. But Is it?
Answer: Not in the least. There are only seven steps to nirvana:
vCenter and NSX APIs provide compute node and other inventory, identify security groups and generate events and send them to GigaVUE-FM
GigaVUE-FM registers 'Gigamon Traffic Visibility Service' and 'Traffic Policies' with NSX-T
vCenter deploys 'Traffic Visibility' Service VMs on the NSX Cluster
vCenter, based on data from GigaVUE-FM, associates traffic policies to the Security Groups
Packets are copied and sent via a virtual switch to GigaVUE-VMs
GigaVUE-VMs provide basic traffic filtering and other functions and forwards to the visibility nodes
GigaVUE-FM constantly monitors status and configured policies and modifies (via vCenter)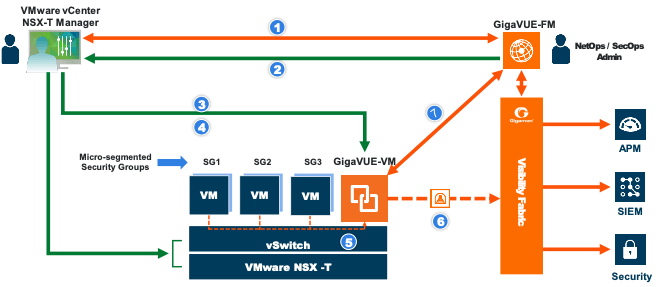 Figure 2. The Gigamon Deep Observability Pipeline is tightly integrated with VMware NSX-T and vCenter.
VMworld: View a Demonstration of Gigamon Solutions for VMware NSX-T
OK, there are a few more details to realize a truly automated private cloud with full packet and application visibility. But then if we listed them out, you would not feel compelled to see our slick Tech Preview demo. We invite you to stop by and meet with us at VMworld (booth #130) from August 25–29.
We will also be showing demos on Containers/Kubernetes, Application Intelligence and Application Metadata Intelligence for both Splunk and QRadar.

CONTINUE THE DISCUSSION
People are talking about this in the Gigamon Community's VMware NSX topic.
Share your thoughts today