OpenStack Summit 2017 Roundup: It's All about Network Functions Virtualization (NFV)
Updated October 21, 2021.
Gigamon, for the 2nd year in a row, was a proud sponsor at the OpenStack Summit. Now, you might wonder what motivates us to attend when you'd expect a lot of the discussion to be around hypervisors, containers, platforms and orchestration?
While OpenStack initially was started as a vendor-agnostic platform for companies to enable their march towards virtualization, it has found its niche with large enterprises and service providers (SP)s. Basically, the organizations who can invest in the skillset to deploy and manage a truly open and scalable platform—even though, yes, they see some vendor lock-in with the likes of Red Hat, Mirantis, Canonical, Platform 9, etc., who offer packaged versions and managed services to ease the deployment of OpenStack.
Nevertheless, as these organizations deploy OpenStack at scale (up to 1000s of VMs according to some customers who stopped by our booth), they have hit upon the typical Day-1 or Day-2 problem of visibility and security into east-west traffic. It is easy to spin up VMs, but are they secure? What about lateral propagation of threats? These customers, who already use Gigamon for their DC network visibility, found it natural to extend the solution to east-west traffic visibility and security.
So Why Service Providers?
Carriers have adopted OpenStack with gusto as they transition from physical to virtual network functions (VNFs) to support the next wave of mobile services and 5G adoption. Now granted, these VNFs are not cloud-native yet. They are being deployed as monolithic VMs in a beefy hypervisor with high throughputs, as far away from a micro-services based cloud native architecture as you can get! Still, the SP infrastructure teams have their marching orders to deploy VNFs in commercial-off-the-shelf (COTS) hardware instead of purpose-built and proprietary hardware.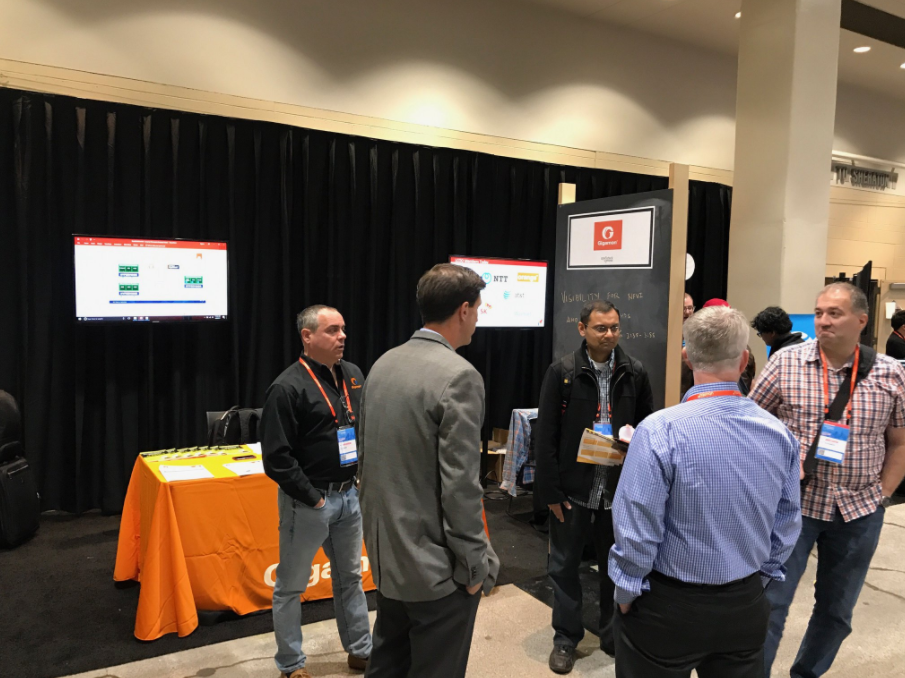 Currently, Gigamon is deployed in eight of the top 10 mobile providers and seven of the top 10 global exchanges—most, if not all of whom, attended the summit, trying to figure out how to deploy, manage and monitor this infrastructure. In fact, one such customer had about 80 of their employees attending, with our booth becoming their hangout. They have the same Day-1 and Day-2 challenge: How to get visibility for these VNFs while preserving their investments  in monitoring tools, Voice Analysis, Application Performance Management and Security.
Gigamon Visibility Platform for NFVI
Over the last couple of years, Gigamon has shown thought leadership in the OpenStack community by spearheading a Tap-as-a-Service (TaaS) project for tenant-level traffic acquisition. Our goal this year was to educate customers and prospects on our upcoming tech-preview of the Gigamon Visibility Platform for NFVI and multi-tenant private clouds. This solution paints both a short- and long-term vision on how to:
De-risk the impact of rolling out new and largely untried NFVI technologies
Analyze and troubleshoot subscriber traffic, especially for the mobile operator
Provide network visibility for IDS, forensics, DLP, SIEM, etc.
Ensure SLAs and compliance for the applications that have migrated
Leverage existing traffic and packet-based monitoring and tooling infrastructure (CAPEX/OPEX savings)
Key Takeaways from the OpenStack Summit
For us, key takeaways were to:
Focus on large enterprises that have the right skills to deploy and manage OpenStack
Enable service providers on their journey to a full NFVI architecture. We believe 2017 will be the transition year with 2018-2019 being the production years.
Get Tap-as-a-Service (TaaS) merged into vendor distributions so it is available Day-0. Lot of interest from the vendor community, once we articulated the need.
Keep tabs on the SR-IOV and DPDK based developments as these VNFs grapple with NIC acceleration and offload for high throughputs
For more information, please check out the video of our summit presentation, and don't miss reading the IDC white paper, "The Growing Need for New Technology and a Business Model in Network Monitoring."
Featured Webinars
Hear from our experts on the latest trends and best practices to optimize your network visibility and analysis.

CONTINUE THE DISCUSSION
People are talking about this in the Gigamon Community's Service Provider group. Share your thoughts today.
Share your thoughts today