Securing the Promise of SDDC Micro-segmentation with Automated Traffic Visibility
It is VMworld time again! Which means the world will be focused on all things virtualization, agile software-defined data center (SDDC), private cloud, hyper-converged infrastructure etc.
But, we at Gigamon have always had a singular focus on visibility – the type of pervasive visibility that uncovers blind spots to help detect threats in the infrastructure. How does this world of Visibility extend into some of the topics that will be discussed and show cased at VMworld, specifically around server and network virtualization and agile SDDC? Why should your organization care for this overlap?
We had previously written about the promise of Micro-Segmentation that VMware NSX brings to the data center. The formidable reach of our Unified Visibility Fabric™, which underpins our Security Delivery Platform, becomes even more compelling when a SecOps or NetOps team can now automate the traffic visibility for out-of-band inspection services like Intrusion Detection, Forensics or Security Analytics for these micro-segments that grow dynamically as applications scale out.
At VMworld, we are pleased to announce that this solution, which was jointly developed with VMware and enabled by GigaVUE-VM using NSX and NetX integration, is now Generally Available and certified under the "VMware Ready Networking and Security" program.
Let us dig a little bit into how this solution really works and what use cases this specifically addresses.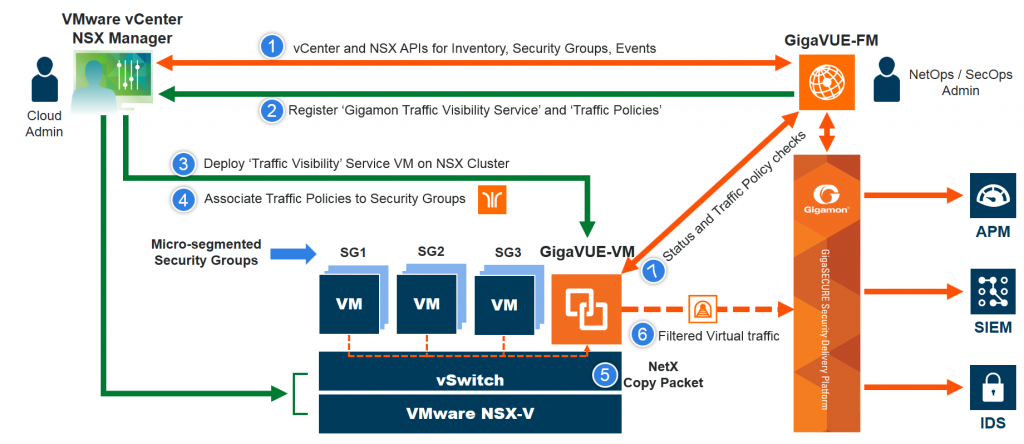 Insert a "Traffic Visibility Service" using GigaSECURE's Virtual Visibility component, GigaVUE-VM
Define security or traffic policies that select, filter and forward the tenant's virtual traffic to security and monitoring tools for analysis.
This service and the traffic policies can be auto-updated as new tenants come on board or existing tenant's security groups scale dynamically.
But, what is the specific use case and why now? VMware NSX now has 1700+ customers and is doubling in year-over-year growth (based on Q2 2016 results). As customers migrate their legacy DCs to the new agile SDDC and private clouds powered by NSX, this solution helps remove blind spots by providing visibility, inspection and security services into the micro-segment's virtual traffic as shown below.
To see this solution in action or find out more, please visit our booth (#727) at VMworld, or join us at the following speaking sessions:
Automated Traffic Visibility for VMware Powered Private Clouds
Tuesday, August 30th at 1:20pm
Location: Theater B, Solutions Exchange
Automating Traffic Visibility for the Software-Defined Data Center
Presenters: VMware & Gigamon
Thursday, September 1st at 1:30pm
Location: Islander C, Level 1, Mandalay Bay Convention Center