In its predictions for 2015, Gartner posits that "today's digital business must act rapidly to respond to fundamental changes in competitive challenges, customer demands and technology use models — all happening simultaneously"[1].  Agility is no longer an option; it is a building block for modern IT.
At Gigamon, we have always had a singular focus on visibility. Visibility that uncovers blind spots, detects threats that are lurking somewhere in the infrastructure, helps security administrators and networks administrators to detect issues proactively before their clients/users report them. The formidable reach of our Unified Visibility Fabric becomes even more appealing when one considers the vast ecosystem of technology partners that we work with to deliver accurate, intelligent access to network traffic and flow records in real-time. Visibility is undoubtedly the foundation to detect blind spots and hidden threats in the infrastructure.
But what if the applications and various IT applications/appliances that receive traffic from the Visibility Fabric also had a way to dynamically respond to events they detect by programming the Visibility Fabric without waiting for administrative intervention? What if, for instance, a security appliance detects a threat pattern and had the capability to auto-adjust traffic to react and respond to threats? That is the motivation behind a new paradigm that we are launching today at RSA 2015 called 'Software-Defined Visibility' (SDV). SDV exposes a programmatic interface to the entire Visibility Fabric using open REST-based Application Programmer Interfaces (APIs).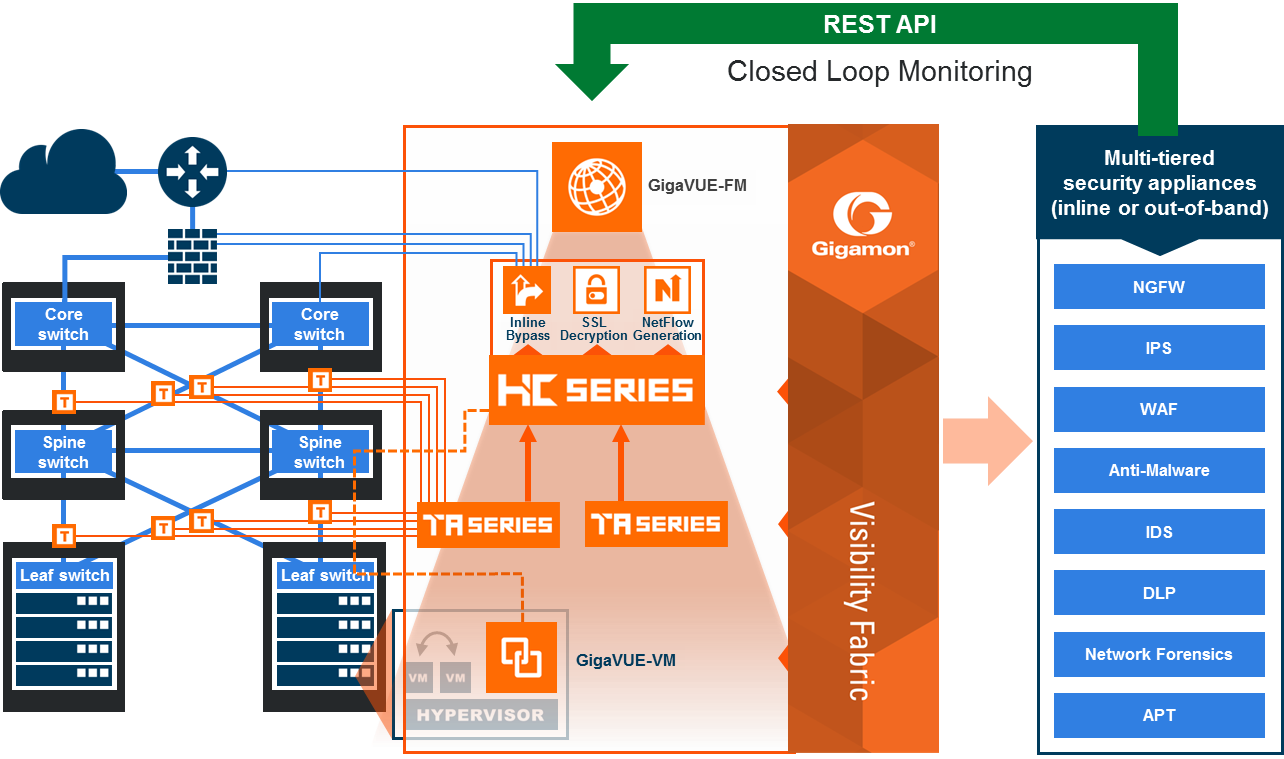 Indeed, as shown in the Figure above, Software-Defined Visibility together with the Visibility Fabric becomes the foundation for the right security delivery architecture. Security devices can be deployed either inline or out-of-band and dynamically obtain access to just the traffic they need—physical and virtual—anywhere in the infrastructure. With the programmatic interfaces that are exposed via GigaVUE-FM, the Fabric Manager for the Visibility Fabric, a closed loop monitoring framework can be established by administrators to adapt to new anomalies that are discovered by the security device. The APIs can also be used to automate many operational tasks such as heterogeneous monitoring, reporting, capacity planning or integration with other IT Operational Management systems. Of course, access to these APIs is protected by Role Based Access Control (RBAC) to ensure that only authorized access is permitted.
We are delighted that in the very first wave of introduction, this paradigm has been met enthusiastically by several customers and partners alike. These early adopter customers plan to integrate the Visibility Fabric with their operations using these APIs to create unique value. Two of our key channel partners BAI Federal, and ePlus, also see tremendous value in leveraging these APIs to build customized offerings for their clients.
Say goodbye to static visibility and hello to the new world of Software-Defined Visibility, where it is not only important to detect events but to react and respond to them intelligently in real-time! It is an important evolution in the visibility journey for our customers. Combined with the intelligence built into Gigamon's Unified Visibility Fabric® architecture, SDV is just the latest example of why an investment in a best-in-class Visibility Fabric allows you to "See More. Secure More", the theme of our presence at RSA 2015. If you are at RSA San Francisco this week, stop by our booth #333 to see how you could leverage these APIs to increase the velocity of threat detection and response in your/your client's infrastructure.
Judging by the response we have seen so far from our customers, technology partners and go-to-market partners, today's digital businesses are indeed ready to act rapidly to respond to changes they see in their infrastructure!
[1] "Predicts 2015: Innovators Must Develop a 'Split Personality' to Support Fast and Safe Digital Business", Gartner, December 2014