The many use cases of hybrid cloud-based network packet brokers are becoming apparent. And Gigamon Hawk has a host of GigaVUE® cloud solutions for a variety of platforms including AWS, Azure, and OpenStack. Yet, while our GigaVUE-FM Fabric Manager for centralized management works hand in glove with native orchestration suites such as AWS CloudFormation and Azure Resource Manager to deploy the various Gigamon Visibility and Analytics Fabric™ (VAF) components, you may want to use your own preferred method.
Current trends back this claim up. One ranking has Terraform at the top and Ansible in second place, with Chef and Puppet not far behind.1 Global Industry Analysts reports that the worldwide market size for orchestration will more than double to $25 billion by 2026.2 Hence, it's anyone's bet as to what orchestration platforms will be the leaders by then.
In the past, organizations either "baked in" our virtual TAPs in so-called golden images on each VM they wanted to monitor or used Gigamon to automate platform native tapping such as AWS's traffic mirroring service combined with their cloud-native network and gateway load balancers. The former method is not easy, more complex, and did not include the holistic VAF solution. The latter is not available on all cloud platforms and faces other limitations.
Empower Third-Party Orchestration Tools to Deploy Cloud Suite
You can now optionally instantiate the GigaVUE fabric components composed of G-vTAP™ Modules, their controllers, V Series nodes, and their proxies (if needed) through an external orchestration platform including proprietary or open-source management tools from Terraform, Ansible, Chef, and Puppet. This flexible third-party support is available for AWS, OpenStack, and soon Azure. Other environments such as Google Cloud Platform and Oracle Cloud Infrastructure can also use these alternative orchestration methods in combination with our AnyCloud offering. Orchestration suites install all these key components, as illustrated in the figure below.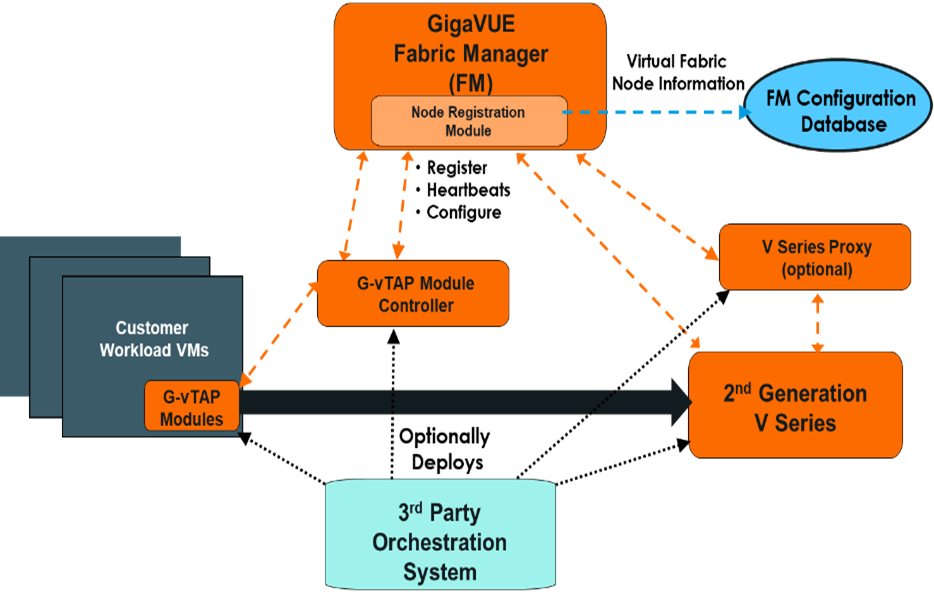 Of course, GigaVUE-FM can reside anywhere: on-premises, a separate AWS VPC or Azure VNet, or even a different cloud all together.
GigaVUE-FM configures all the Gigamon fabric components, GigaSMART® applications, and their policies, including Application Intelligence (for AWS with Azure on deck), flow mapping, and monitoring session-based services. These nodes are automatically discovered and self-register with GigaVUE-FM using data from your orchestration system of choice. There are two ways to provide configuration information: from a file or user data.
Once set up, GigaVUE-FM continuously monitors the entire VAF including traffic acquisition, aggregation, processing, and distribution.
Configuration is straightforward, with the following steps:
Launch GigaVUE-FM
Create monitoring domain
Register G-vTAP controller
Register V Series Proxy (optional)
Register G-vTAP Module
Register V Series Visibility Nodes
Create monitoring session
To ensure availability, the health of the VAF is determined by heartbeat messages sent from the respective components to GigaVUE-FM. After successful registration, GigaVUE-FM utilizes a configurable heartbeat time interval (default 30 seconds) whereby all fabric components send periodic heartbeats to GigaVUE-FM based on this interval. Health is determined by heartbeat requests, and a component will be marked as "unhealthy" if a heartbeat is missing. GigaVUE-FM will attempt to reach that component; if it can be contacted, GigaVUE-FM resets the last heartbeat time and traffic will continue to flow, but this still leaves the status as unhealthy. After repeated successful heartbeats, the component status will be reset to "healthy." Fabric components will be unregistered if they miss five consecutive heartbeats. In that unlikely event, the orchestrator will work with GigaVUE-FM to reboot any failed components.
Expanded Flexibility: What's Not to Like?
Third-party orchestration's expanded flexibility lets your CloudOps teams choose their orchestration method. They can continue to use CloudFormation from AWS or Resource Manager from Azure or Terraform, which is rapidly gaining ground, or Ansible, Chef, or Puppet. Using an existing tool makes the deployment faster, saving the time IT would spend learning a new tool. With deep integration, deployments are further simplified, workload visibility automated, and the fabric rolled out much quicker. Finally, the system is more robust for business continuity, as these tools increase overall resiliency and system uptime.
Gigamon will continue to follow the same approach to system orchestration that we do for traffic acquisition: You can utilize your existing infrastructure if desired.
Learn More
View a live demo of our Hawk solution for hybrid cloud. Or contact us directly to have your questions answered promptly and accelerate your journey to the cloud with Gigamon.
---
References
Navdeep Singh Gill. "Infrastructure as Code Tools to Boost Your Productivity." NexaStack, Oct. 14, 2021. https://www.nexastack.com/en/blog/best-iac-tools.
"Global Cloud Orchestration Market to Reach $25 Billion by 2026." Global Industry Analysts, June 1, 2021. https://www.prnewswire.com/news-releases/global-cloud-orchestration-market-to-reach-25-billion-by-2026-301302263.html.
Featured Webinars
Hear from our experts on the latest trends and best practices to optimize your network visibility and analysis.

CONTINUE THE DISCUSSION
People are talking about this in the Gigamon Community's Hybrid/Public Cloud group.
Share your thoughts today