Partner Spotlight: Gigamon and Layer 8 Solutions Help Deliver High-Performance Network Monitoring
Layer 8 Solutions is the first Gigamon Certified Support Partner and Professional Services Partner in Canada. The company was founded in 2009 to help organizations solve complex IT challenges related to network and security.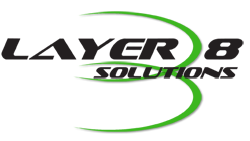 We sat down with Layer 8's Vice President of Sales, Jamie Bertrand, to discuss how Gigamon and Layer 8 are working together to deliver network visibility solutions and outstanding service for customers.
Gigamon: Who is Layer 8 and what is the company's history?
Jamie: Layer 8 was founded in 2009 by Steve Watt and myself. We are a value-added reseller covering Canada from coast to coast. In 2009, we renamed the company from Testsource to Layer 8 Solutions because it was more in line with our passion to help organizations solve network and application performance challenges, as well as network visibility.
Gigamon: What does your company name stand for?
Jamie: Credit for the name Layer 8 Solutions goes to Steve Watt. We worked together to design the company logo sitting at my kitchen table in 2009. The term "Layer 8" is widely accepted as a reference to network management issues that cannot be attributed to Layers 1 through 7. When you have checked Layers 1 through 7 and still have a problem, call Layer 8! We help people solve their most difficult problems.
Gigamon: Describe your company culture. What makes you tick?
Jamie: Exceptional customer experience is what we strive for. Our goal is to provide our customers with the best products and best customer service possible. This has always been at the heart of Layer 8 — and still is today.
Gigamon: When and how did you become a Gigamon partner?
Jamie: We became a Gigamon partner in 2006/2007, when Gigamon was a startup with only one product called the MP. Rich Vogt, from Resource Communications in Chicago, suggested we talk to Gigamon, and the rest is history.
Gigamon: If you had to describe Gigamon with just one word, what would it be?
Jamie: Visionary.
Gigamon: What are some of your market's specifics, advantages, and challenges when it comes to network security and visibility?
Jamie: One challenge for our customers in a vertical market is accessing all of the required network traffic. Today organizations must gain access to the many tiers of their networks in order to optimize and justify their investments. With Layer 8 and Gigamon, we can achieve complete network visibility physically, virtually, and via the public cloud.
Gigamon: Which Gigamon features stand out the most and make the product outstrip its competitors?
Jamie: Gigamon is a holistic visibility platform, and its ability to integrate the various components that make up the solution is unmatched by its competitors.
Gigamon: How do you see Layer 8 fit together with Gigamon to solve your customers' problems?
Jamie: It's all about delivery! Layer 8 and Gigamon together provide best-in-class visibility that is comprehensive and affordable. We optimize the effectiveness of ecosystem partners and customer toolsets.
Gigamon: Where do you see the trends in network security and visibility in three years' time?
Jamie: In three years' time, network access, security, cloud migration, and analytics will increase in complexity, cost, and scale. This will force greater use of artificial intelligence (AI), machine learning (ML), and flow metadata.
Gigamon: What's an anecdote that customers share when they talk about our products and your products and services?
Jamie: Here is a direct comment that a longtime customer sent in an email: "Just wanted to say again — you guys [Layer8] are providing an OUTSTANDING service to the customers. We have other vendors and parties to compare and their support level is not even close to yours. Thanks a lot for what you are doing! I'm providing the same '5 stars' feedback to my supervisors."
Gigamon: What is the most memorable moment associated with Gigamon as a partner?
Jamie: For me personally, it's incredible that we started selling and promoting Gigamon as a startup with one product 15 years ago. It's been truly memorable to be able to participate in and witness Gigamon's evolution into the world's leading network visibility solution provider.
Gigamon: What are the wow moments associated with Gigamon?
Jamie: The wow moments are when we witness the breadth and scale of our customer deployments — it's mind-blowing. We have customers that have been with Layer 8 and Gigamon for more than 12 years — that's "wow." Clearly, both Layer 8 and Gigamon are doing something right.
Gigamon: What are some of the new challenges you see in the market that your partnership with Gigamon can solve?
Jamie: Customer migration to the cloud has many nuances and challenges with visibility. These increased complexities will require a seasoned visibility partner like Gigamon.
Gigamon: What are the positive business outcomes as a Gigamon partner?
Jamie: For Layer 8, positive business outcomes are happy customers. Thanks to Gigamon, we can show our customers true ROI by deploying the best visibility fabric on the market today.
Gigamon: What unique capabilities does this partnership bring to your business?
Jamie: As a Platinum Support partner, our partnership with Gigamon has enabled us to build an even stronger relationship with our customers and allowed our technical team to be regarded as trusted advisers. Our customers often remind us of the great customer support we provide. I feel this is unique in our industry.
Gigamon: What are some of the benefits of the Gigamon Partner Program that stand out? Trainings? Incentives? Discounts? Co-marketing?
Jamie: The Gigamon Partner Program has grown and seen many changes over the years. The Gigamon Partner Portal, training, incentives, discounts, and co-marketing are all extremely well done. There are so many benefits to investing in a proper partner program, and Gigamon has nailed it.
Gigamon: Thank you, Jamie, for making time for us and for being such a wonderful partner.

CONTINUE THE DISCUSSION
People are talking about this in the Gigamon Community's Networking group.
Share your thoughts today