Gigamon Visualyze: Day 1 Is Over but Two More Exciting Days of Learning Lie Ahead
Updated September 16, 2021.
The first day of Gigamon Visualyze is a wrap — and what an exciting day it was! Independent investigative reporter Brian Krebs gave a fascinating keynote address to kick off the conference, and users around the world were able to talk with experts and vendor representatives and share expertise with one another.
Brian spoke at length about big hacks and breaches, attack trends, cloud security, ransomware, and hacker motivations. Here are some key quotes from Brian's talk: 
"Nothing about the cloud makes things easier or simpler in the short run"
"The biggest mistake organizations make when moving to the cloud is how much it's going to cost to secure the data"
"It's important for companies that are making the transition to the cloud to lean heavily on people who have done this before and steer them away from pitfalls that others have gone into with respect to their data and visibility"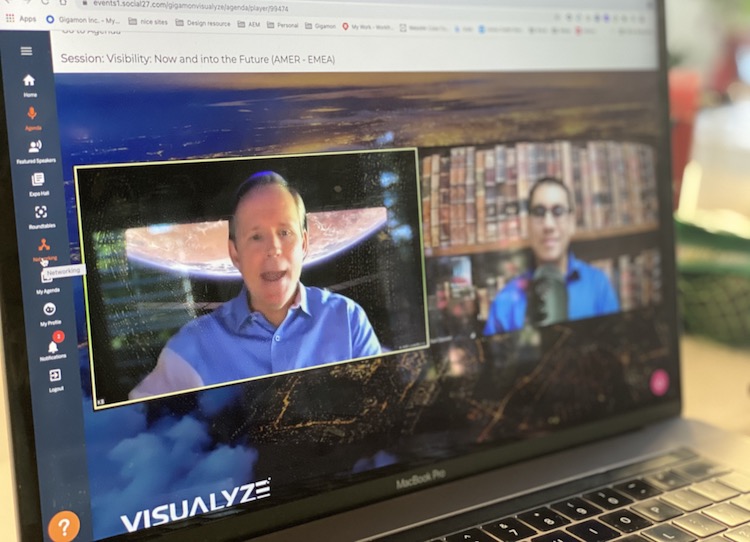 Previewing Day 2: Keynote by AWS and Executive Panel on Security
If you're running workloads on AWS, visibility into your network is a foundational item to help ensure that your network is secure and functional. Scott Ward, Principal Solutions Architect at AWS, will lead a must-see keynote on day 2 of Visualyze for anyone who uses Amazon's cloud service and wants to know how Gigamon can help provide that visibility. Tune in on Wednesday, May 12 at 7 a.m. Pacific/10 a.m. Eastern/15:00 GMT to hear more from Scott.
But that's just part of Visualyze's busy second day. Be sure to check in with these panels:
Executive panel: Security Is at the Heart of Your Digital Transformation and Cloud Migration
Cloud visibility sessions: 1) Scaling Out VPC Mirroring and 2) Private Cloud Visibility
Core visibility sessions: 1) Using Wire Data in Monitoring and Security Use-Cases and 2) Tap and Agg: Back to Basics with a Foundational Approach, plus three more!
Previewing Day 3: Keynote by Thomas Koulopoulos and Executive Panel on Network Visibility
Then, on Day 3, author and futurist Thomas Koulopoulos will discuss the rich and complex cloud ecosystems that will be at the heart of every major trend in our business, economy, government, and society — changing the way we run today's businesses and making possible new business models we have yet to conceive. Be sure to tune in on Thursday, May 13 at 7 a.m. Pacific/10 a.m. Eastern/15:00 GMT, to find out what Thomas has to say.
Day 3 also features some can't-miss sessions:
Ask the Engineers: Core Infrastructure and 5G
Executive Panel: Core/Network Visibility: Does the Datacenter and the Core Network Have a Future in a Cloudy World?
Birds of a feather: 1) Healthcare, 2) Scaling 5G Visibility, 3) Financial Services, 4) NDR/Incident Response, 5) Containers and Automation
Security sessions: 1) How Gigamon Enables Zero Trust and 2) Using ThreatINSIGHT Like a Pro, plus three more!
See the full agenda for the complete list of sessions, including those for core visibility, cloud, and 5G.
Prizes Add to the Fun
When you learn and interact with other attendees at Visualyze, you get a chance to win some fabulous prizes! When you do certain activities — like attend a session, post questions or answers in a Q&A, visit a sponsor booth, or download a session resource — you will earn badges and points. Visit the Networking Lounge at any time to see what you've earned and view the points leaderboard.
Then, at the end of the day, attendees who have hit a minimum point threshold will be entered into a random drawing for one of ten prizes such as a Nikon PROSTAFF Binoculars 3S 8×42, Bose SoundLink Mini II, Sony WH-XB700 Wireless On-Ear Headphones, and more!
Go here for all the details on points, badges, and prizes.
Join Us for All the Action
If you're not yet registered, there's still time to join with experts and peers for this FREE virtual event. See you at Visualyze!