Four days, nine sessions, three workshops, two keynotes and more than 14 miles of walking is my final tally from last week's Dreamforce, Salesforce.com's annual user conference in downtown San Francisco. But it's quality, not quantity, right?
Lots of Community for Me!
As the Gigamon Community Manager, my focus at the conference was on absorbing all the tribal knowledge, product updates and networking opportunities around Salesforce's Community Cloud. What a perfect mix of sessions, demos, workshops and networking that Dreamforce delivered.
For me, the most valuable time was in the Genius Bar at the Community Cloud station. Here, I received 1:1 sessions with Community Cloud solution engineers and got to dig in to specifics on how to better manage and configure the Gigamon Community. I was pumped when one of the solutions engineers browsed community.gigamon.com, bookmarked it and told me that "This is now my favorite Community!"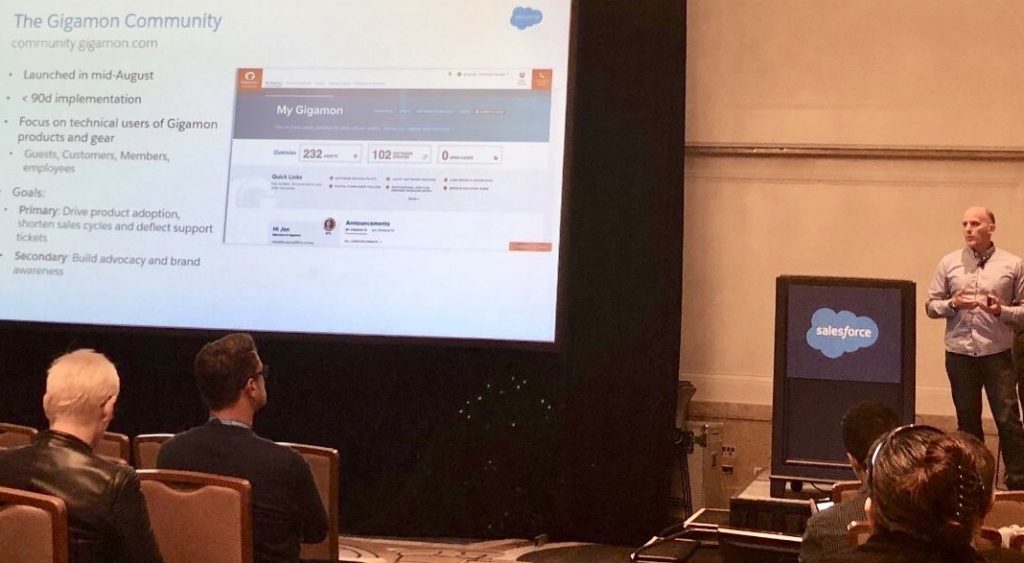 Kudos to Salesforce for pulling together a variety of community-focused sessions presented by other community managers and experts on high-value community use cases. I was honored to demonstrate what we're doing with user personalization at one of the breakout sessions.
Finally, I got to network with peers, Salesforce's product managers and our Salesforce account team. This is always the highest-quality activity at any conference, and my Community network just got a big boost of goodness.
Software not Vapor
I really like how Salesforce goes to market with three releases per year. This way, everyone knows when to expect new enhancements and products. Additionally, this turns their roadmap presentations into smaller, more digestible and — most importantly — believable formats.
More Time with Einstein
I'm very excited to spend more time learning about the Einstein artificial intelligence technology that had a huge presence at Dreamforce this year. There are some high-value self-service use cases such as chat-bots, recommendations and intelligent search that I want to explore.
The Next 12 Months
I'm back to 100 percent after spending two enthralling days in San Francisco with all my fellow #trailblazers. This year promises to be an exciting one for our community as we serve our members, customers, partners and employees with our Community site powered by Salesforce. Sharpen your technical skills and share your knowledge by joining today!