I'm very excited to introduce two new features and one new product included in our announcement.
#1. SSL/TLS Decryption Now Extends Across the Entire HC Series Range
Protection of your enterprise's confidential information and prevention of data breaches are crucial to supporting successful business operations. You need to safeguard all forms of communication, including streaming videos, social media interactions and email messages, from prying eyes and against other security threats. We all use SSL/TLS to establish secure communication with our partners and customers. Unfortunately, cyber criminals use SSL/TLS traffic as a channel to hide threats from security devices, which means we need to ensure our security tools can decrypt the traffic and ensure there are no hidden threats.
Last year Gigamon released our inline SSL/TLS solution on our flagship GigaVUE-HC2 platform, followed by GigaVUE-HC3 support last fall. Now, we completed the series by adding support on the GigaVUE-HC1. With this release, Gigamon now offers a range of products that offer SSL visibility for all situations — from very large enterprises to remote and branch offices (ROBOs). Gigamon enables you to decrypt once and inspect multiple times using whatever security tools you have in your network.
It's also worth adding that Thales HSM support now extends across the whole HC Series family. This means you can utilize Thales' market-leading key management solutions for our out-of-band SSL/TLS decryption on any of the supported Gigamon platforms.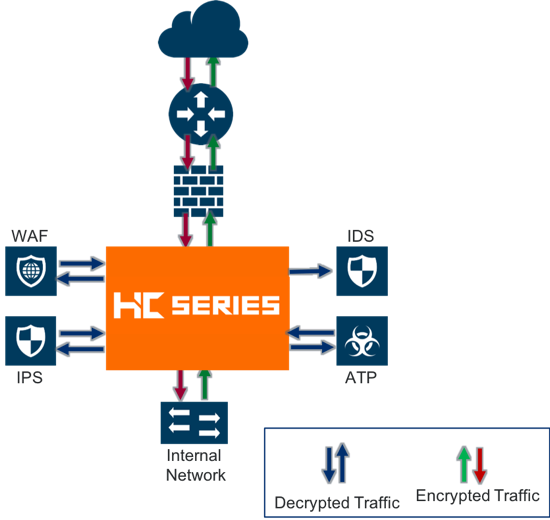 #2. GigaVUE-FM Tool View
The second new feature I want to highlight is an update to our single pane-of-glass orchestration and management solution, GigaVUE-FM.
With this release, you will able to leverage the new GigaVUE-FM Tool View for security and network tool capacity planning. This means you can ensure your security tool is optimally utilized, select the best tool to route network traffic to based on resource availability and track the tool's storage capacity and data wrap-around time.
#3. Introducing the GigaVUE-TA200
As networks and our customer base expand, we see more customers looking for more ways to aggregate multiple low-utilization 1Gb, 10Gb, 40Gb or 100Gb links and feed the combined traffic through higher-end Gigamon solutions to their security tools. Features such as egress filters on the popular GigaVUE® TA Series optimize the traffic flows to ensure that only the traffic of interest is forwarded.
With this release, Gigamon is adding the new GigaVUE-TA200 to the TA Series. This platform meets your requirements for broader network visibility with higher density and capacity traffic aggregation without the GigaSMART® features. It offers 64 x 40Gb/100Gb ports, which means that up to 128 10Gb/25Gb breakout ports can be added.

To learn more about each of these recent enhancements, download the following assets:
Feel free to contact us with additional questions.