Flatten the 5G Cost Curve and Sidestep These 5 Deployment Pitfalls
Deploying fifth generation (5G) mobile communication infrastructure and services promises to be as expensive and complex as the deployment of prior mobile infrastructures — perhaps even more so. New technologies, availability of new radio frequency (RF) bands, more densely packed towers, new low-latency B2B-enabling services and a proliferation of endpoints — all supported by 5G's ability to carry more traffic — contribute to deployment challenges and added instrumentation expenses for service providers.
This new deployment landscape requires mobile operators to fund the purchase of large numbers of expensive analytic tools and network probes while keeping the existing 4G network up and running during the migration phase. The Gigamon Visibility and Analytics Fabric™ (VAF) breaks the spiralling cost-curve relationship for 5G deployments by reducing overall spend, drastically cutting the amount of traffic to be analyzed, and spreading tool and probe spend over multiple years. These cost savings flow directly to the mobile operator's bottom line, resulting in an economic advantage that service providers can realize as a competitive advantage.
The Gigamon Economic Advantage
In a recent study commissioned by Gigamon and performed by ACG Research, an independent telecom analyst firm, a real-life deployment scenario was evaluated with and without the use of Gigamon solutions. The study looked at the projected cost savings and traffic-reduction impact of Gigamon traffic management technology.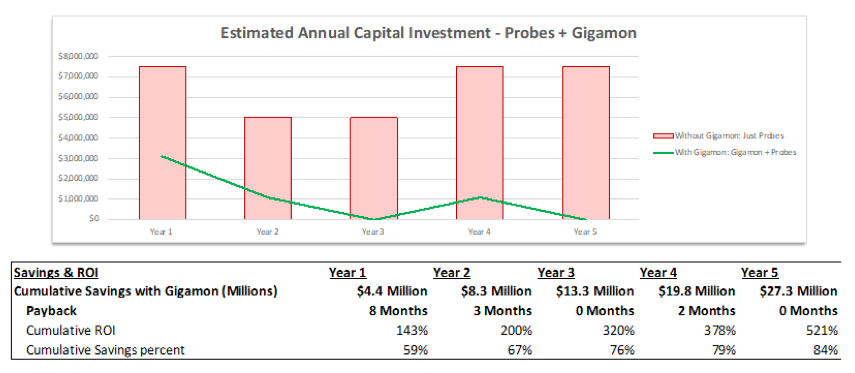 This analysis found that:
The Gigamon solution reduces traffic to monitoring probes while preserving key analytic data necessary for the mobile provider to manage their packet core
The traffic reduction results in significant savings in outlay for probes
For ten core sites with 2.5 million subscribers in each site, the cumulative Gigamon-enabled savings are up to $27.3 million with a 521 percent ROI
5G's Five Main Problems
5G is the fifth generation of mobile communication technology, and not surprisingly, there is a corresponding number of deployment challenges.
1. Increased Traffic
Peak speeds of 4.3Gbps in lab settings
More densely packed towers mean more subscribers, more devices and more traffic per square mile
Higher RF bands allow for substantially more bandwidth per square mile
2. Proliferation of Endpoints
5G is designed for the Internet of Things (IoT)
Billions of new devices and connections are expected to join the network
Global mobile machine-to-machine (M2M) growth
3. New and Sensitive Traffic Types
New applications such as autonomous vehicles require low-latency to avoid life-and-limb injuries. 4G network latency can be as high as 30ms, versus an expected 1ms latency for 5G, allowing these new services to execute almost in real time.
Highly bursty traffic patterns as found in media edge computing.
UHD video requires reliable connections and low packet loss with high throughput to avoid video glitches.
4. New 5G Technologies
Higher RF bands with unknown in-building and atmospheric performance means closer tower proximity and more towers — leading to more backhaul network complexity
Network slicing may be prone to configuration issues
Virtual infrastructure and new software-based telecom network elements may be challenging to deploy
Server spin-up and tear-down of processing and storage containers will likely place tremendous strain on network and cloud datacenter resources
5. New Security Threats
Digital transformation and innovations designed to offer subscribers more of what they want only complicate matters and create more opportunities for threat actors. With all its benefits, 5G is still evolving, and the immaturity of the architecture and technologies increases risk. In fact, several vulnerabilities have already come to light.
These five problems combine to present a challenge for the mobile operator in deploying economically efficient networks and services. Failure to mitigate these issues upfront may result in the loss of any economic advantage that 5G brings to the mobile operator's business.
Flattening the Cost Curve with Gigamon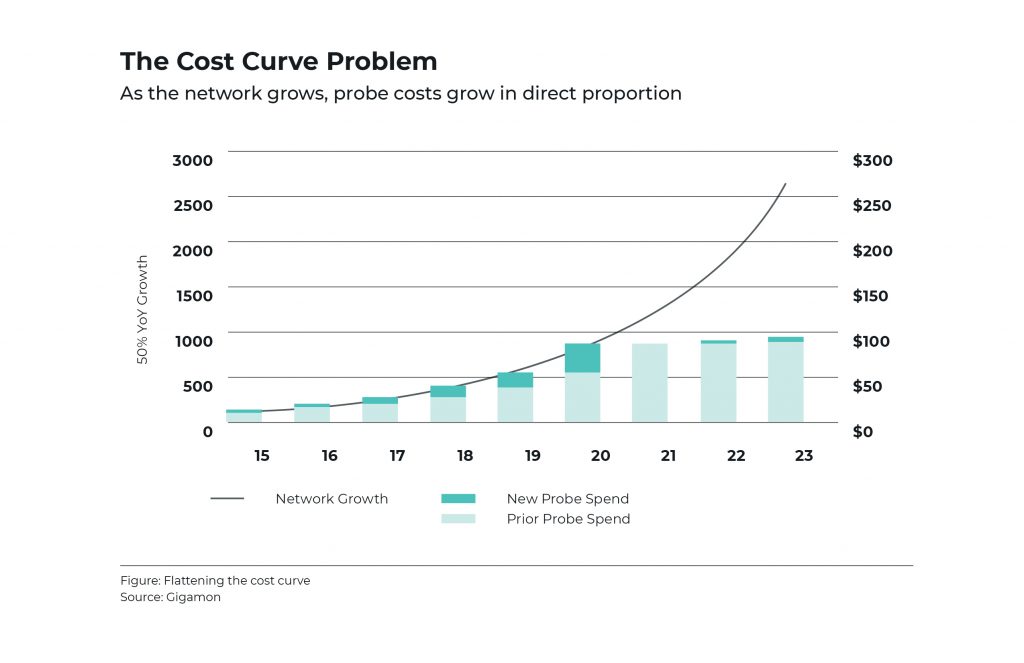 There is a direct and proportional relationship between probe cost and probe throughput processing capability as shown in Figure 2 — and this relationship is unsustainable, especially as traffic levels are expected to grow exponentially. As mobile operator revenue continues to be largely flat, a new approach is needed to break this unsustainable cost-curve relationship. An ideal solution would not only increase mobile operator profitability, but also demonstrate increased business and service agility.
Spotlight on the Mobile Operator's Business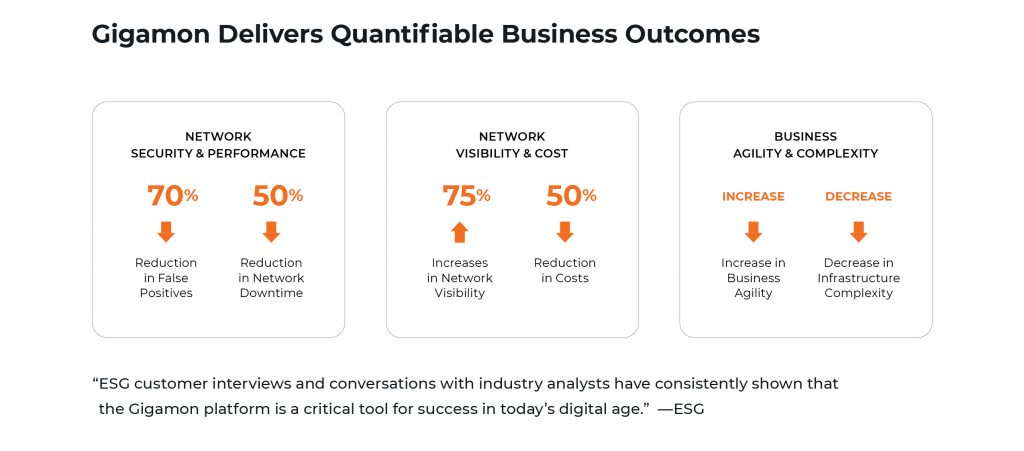 Gigamon solutions allow the mobile operator to deploy 5G without breaking the bank, enabling in-depth monitoring of the network while prioritizing the right traffic, the right devices, the right subscribers and the right services. Besides reducing costs and improving customer experience, Gigamon provides other benefits, such as faster network fault finding, reduced outages and improved MTTR metrics.
Successful 5G Networks Use Gigamon
A monitoring solution not only helps the mobile operator deploy 5G more effectively and accelerate time to market, it also offers insight into efficiencies for the service provider's business: how the business can be run more effectively, efficiently and profitably over the long haul.
5G introduces a high degree of change for providers: new technology, network automation, new radio frequency bands, new service offerings, new traffic types, new devices, new use cases — and most importantly — new subscriber expectations. A comprehensive monitoring system can help alleviate and, in many cases, resolve issues that come along with 5G deployment.
Gigamon monitoring solutions can enable mobile operators to do more with less and run their businesses more efficiently and effectively — addressing issues that would otherwise lead to churn, deploying new technologies in a managed way, and meeting service cost models as well as subscriber quality and customer service expectations — all while staying within deployment budgets, avoiding escalating tool costs and increasing ROI.
Find out more about what Gigamon has to offer service providers and how Gigamon can help optimize the cost of monitoring and securing 5G networks.
Featured Webinars
Hear from our experts on the latest trends and best practices to optimize your network visibility and analysis.

CONTINUE THE DISCUSSION
People are talking about this in the Gigamon Community's Service Provider group.
Share your thoughts today